50th Anniversary Tributes
Bob Dickinson - Former Chief Executive Officer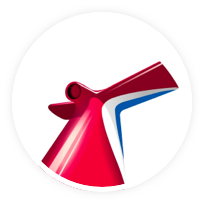 Carnival Cruise Line
How did you get into the cruise industry?
BD: By accident. I was working at a travel conglomerate in Boston called American International Travel Service and was sent down to Miami to sell a division of that company called Carnival Cruise Line. I wasn't able to sell it, but I stuck around and had a 35-year career there.

When did you partner with Apollo?
BD: From the very beginning. Carnival was started in Feb 1972 on a shoestring. Apollo at that time was called R&F Caterers and they had been well known caterers in the hospitality industry here in South Florida and that was the vendor that our founder selected and was our vendor for eight years. We had one ship in 1972, added a second in '76 and a third ship in '78, and they saw us through all of that expansion.
Can you describe the impact the Apollo Group had on Carnival?
BD: Well literally, we couldn't have done it without them. They were the vendor of choice for us and honestly the only vendor available because everyone else already had ties to other cruise lines. And so we wouldn't have been successful without them; we would've been dead in the water.
What was the most memorable project you worked on with Apollo?
BD: I was in sales and marketing, and I handled all of the customer complaints. There were a number of customer complaints in those early days, but food and service was really not one of them — that was the least of my worries. And it was very comforting because we had a lot of issues with the physical plant of the Mardi Gras, which was a transatlantic liner that we put it into service as a two-class ship. Back then cruising was all one class, and the bathrooms were en suite. On this ship, you had to go down the hall to a shared tub or shower stall you were assigned to. To Apollo's credit, they were able to get us very good staff and we didn't have food or service issues, and the quality made the difference.
What do you think has contributed to Apollo's success over the years?
BD: Let's start with the two big things from my standpoint — quality and reliability. The ship usually comes in at 6 in the morning to the port of Miami, for example, and they sail again around 4 or 5pm, and you have to re-provision that ship during that period. You have to make sure your crew is fully available and that you have enough waiters and chefs and bar staff and so on. So, staffing the ship and provisioning the ship on a reliable basis, and then delivering a high-quality product in terms of the food and service on a consistent, reliable basis is really paramount.
I give Apollo a lot of credit because over the years, different cruise lines that have been their customers have had financial challenges, and so many times they asked Apollo to do more for less money, if you know what I mean. It takes a significant amount of sustained ingenuity to figure out how to leverage a high-quality product in the face of inflation or in the face of pressure from cruise lines asking for lower costs.
Is there anything else you'd like to add?
BD: Thriving in this business for 50 years, from when the cruise industry was very small to where it is today, speaks to Apollo's success, to their delivery of quality and reliability.
Are you ready to elevate your career? Join Apollo, sail the world.
Apollo has been a top employer and leader in supply chain and logistics in South Florida for 50 years.